Market Update: USDJPY & GOLD – June 27th, 2023
NOTE: This Market Newsletter is developed by using Daily Chart Time Frame, and a relevant price chart is attached to each market.

USDJPY: Buying On A Breakout Of Bullish Inside Bar + ultra-small Pin Bar (Combination Setup)
Comments: Price formed a Bullish Inside Bar + ultra-small Pin Bar (Combination Setup) on Monday, June 26th.

Price moved significantly higher from the recent Bullish Inside Bar + small Pin Bar (Combination Setup) that had formed on Wednesday, June 14th.

Potential Trade Signal: We are looking to buy on a breakout of the current Bullish Inside Bar + ultra-small Pin Bar (Combination Setup) that had formed on Monday, June 26th (Buy Stop: 143.90 & Stop: 142.50).

To join our Premium Discord & Facebook Group, and have access to daily live streams, CLICK HERE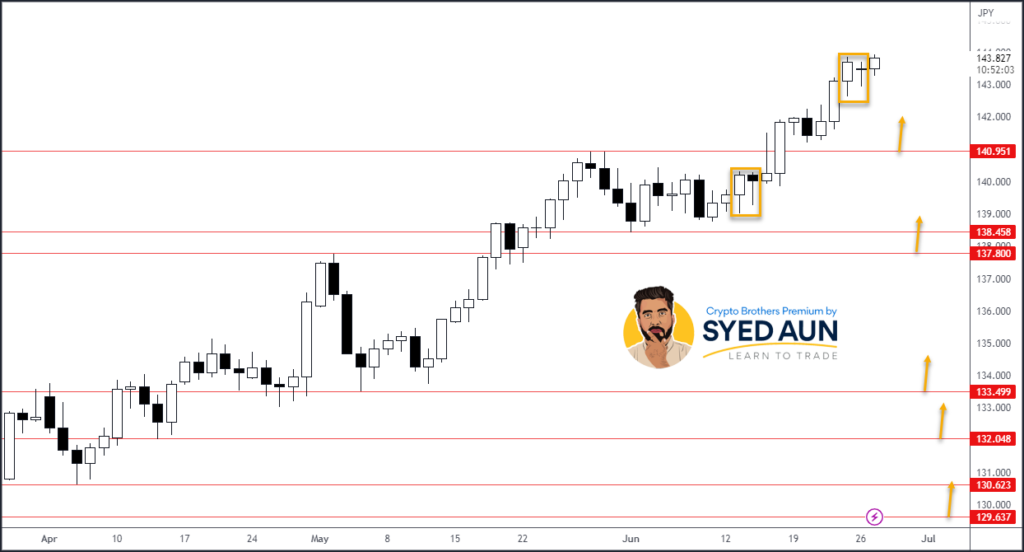 GOLD – XAUUSD: Selling On A Breakdown Of Bearish Long-Tailed Pin Bar + Inside Bar (Combination Setup)
Comments: Price formed a Bearish Long-Tailed Pin Bar + Inside Bar (Combination Setup) on Monday, June 26th.

Potential Trade Signal 1: For more aggressive traders, we are looking to sell on a breakdown of the current Bearish Long-Tailed Pin Bar + Inside Bar (Combination Setup) that had formed on Monday, June 26th (Sell Stop: $1909 & Stop: $1940).

Potential Trade Signal 2: We are looking to sell on a retracement higher and after a price action sell signal/setup, at or just below the $1973 – $1983 short-term resistance area, which coincides with the recent Bearish Tailed Bar Signal that had formed on Tuesday, June 13th.

To join our Premium Discord & Facebook Group, and have access to daily live streams, CLICK HERE
We will love to hear your Feedback!

To get access to our Premium Discord & Facebook Groups and get daily updates on 20+ markets – CLICK HERE

Disclaimer: The risk of loss in trading financial market products, like Cryptocurrencies can be substantial. You should therefore carefully consider whether such trading is suitable for you in light of your financial condition. Any content posted here should not be considered financial or Trading advice, this newsletter is just for information purposes and is just the author's opinion.